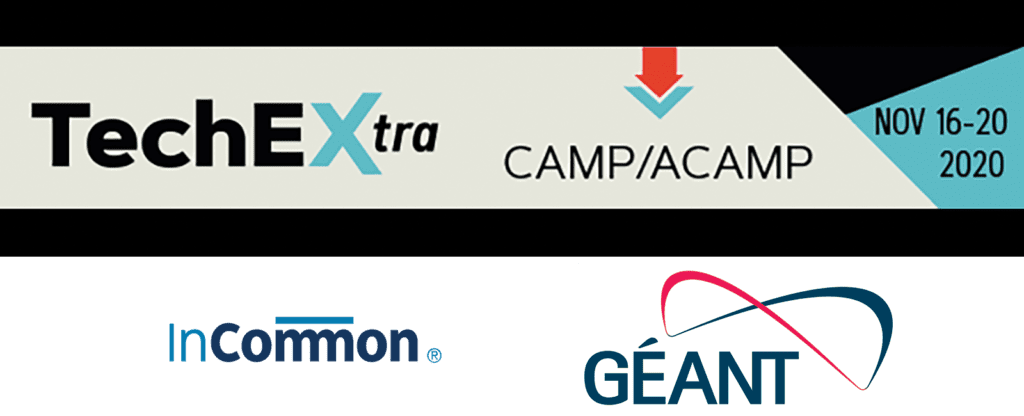 2020 CAMP and Advance CAMP
November 16-20, 2020
InCommon and GÉANT will gather the identity and access management community on November 16-20, 2020, for the virtual identity and access management meetings CAMP and ACAMP.
CAMP November 16-17, 2020
What is CAMP? The acronym means Campus Architecture and Middleware Planning. CAMP has come to mean the series of track sessions that include case studies, organizations' innovations in identity management, best practices, and other presentations that help move the community forward.
Advance CAMP (ACAMP) – November 18-20, 2020
What is ACAMP? It is the annual unconference where the research and education identity and access management community gathers to identify and work on long-range and global challenges.
Registration
CAMP/ACAMP Registration Fees

| | |
| --- | --- |
| InCommon Participants and Internet2 Members | $275 |
| International Constituents | $275 |
| All Others | $375 |
Program
Our community program committee continues to work on the details of CAMP and ACAMP. They have designated these times with consideration for both U.S. and European time zones. The full program will be published in mid-October after the call for proposals closes.
Monday, November 16, 2020 – CAMP
Time (U.S. ET and Central European)
Track 1
Track 2
9:30 – 10:30 ET (15:30 – 16:30 CET)
Welcome to CAMP (combined tracks)
Trust and Identity Plenary (combined tracks)
10:30 – 10:45 ET (16:30 – 16:45 CET)
Break
10:45 – 11:35 ET (16:45 – 17:35 CET)
CAMP session #1
CAMP session #2
11:35 – 12:30 ET (17:35- 18:30 CET)
Break
12:30 – 1:20 ET (18:30 – 19:20 CET)
CAMP session #3
CAMP session #4
1:20 – 1:30 ET (19:20 – 19:30 CET)
Break
1:30 – 2:20 ET (20:30 – 21:20 CET)
CAMP session #5
CAMP session #6
2:20 – 2:30 ET (21:20 – 21:30 CET)
Wind-up and Preview of Tuesday
Tuesday, November 17, 2020 – CAMP
| Time (U.S. ET and Central European) | Track 1 | Track 2 |
| --- | --- | --- |
| 9:30 – 9:45 ET (15:30 – 15:45 CET) | Welcome to Tuesday (combined tracks) | |
| 9:45 – 10:35 ET (15:45 – 16:35 CET) | CAMP session #7 | CAMP session #8 |
| 10:35 – 10:45 ET (16:35 – 16:45 CET) | Break | |
| 10:45 – 11:35 ET (16:45 – 17:35 CET) | CAMP session #9 | CAMP session #10 |
| 11:35 – 12:30 ET (17:35 – 18:30 CET) | Break | |
| 12:30 – 1:20 ET (18:30 – 19:20 CET) | CAMP session #11 | CAMP session #12 |
| 1:20 – 3:30 ET (19:20 – 19:30 CET) | Break | |
| 1:30 – 2:20 ET (19:30 – 20:20 CET) | CAMP session #13 | CAMP session #14 |
| 2:20 – 2:40 ET (20:20 – 20:40 CET) | CAMP wind-up and preview of ACAMP | |
Wednesday, November 18, 2020 – Advance CAMP
| Time (U.S. ET and Central European) | Program Item |
| --- | --- |
| 9:30 – 10:20 ET (15:30 – 16:25 CET) | ACAMP Agenda Setting |
| 10:20 – 10:30 ET (16:20 – 16:30 CET) | Break |
| 10:30 – 11:20 ET (16:30 – 17:20 CET) | ACAMP Session #1 (5 breakouts) |
| 11:20 – 12:20 ET (17:20 – 18:20 CET) | Break |
| 12:20 – 1:10 ET (18:20 – 19:10 CET) | ACAMP Session #2 (5 breakouts) |
| 1:10 – 1:20 ET (19:10 – 19:20 CET) | Break |
| 1:20 – 2:10 ET (19:20 – 20:10 CET) | ACAMP Session #3 (5 breakouts) |
| 2:10 – 2:20 ET (20:10 – 20:20 CET) | Daily wind-up and Thursday preview |
Thursday, November 19, 2020 – Advance CAMP
| Time (U.S. ET and Central European) | Program Item |
| --- | --- |
| 9:30 – 9:55 ET (15:30 – 15:55 CET) | Welcome Back and ACAMP Agenda Setting/Tweaking |
| 9:55 – 10:05 ET (15:55 – 16:05 CET) | Break |
| 10:05 – 10:55 ET (16:05 – 16:55 CET) | ACAMP Session #4 (5 breakouts) |
| 10:55 – 11:05 ET (16:55 – 17:05 CET) | Break |
| 11:05 – 11:55 ET (17:05 – 17:55 CET) | ACAMP Session #5 (5 breakouts) |
| 11:55 – 12:55 ET (17:55 – 18:55 CET) | Break |
| 12:55 – 1:45 ET (18:55 – 19:45 CET) | ACAMP Session #6 (5 breakouts) |
| 1:45 – 1:55 ET (19:45 – 19:55 CET) | Break |
| 1:55 – 2:45 ET (19:55 – 20:45 CET) | ACAMP Session #7 |
| 2:45 – 2:55 ET (20:45 – 20:55 CET) | Daily wind-up and Friday preview |
Friday, November 20, 2020 – Advance CAMP
| Time (U.S. ET and Central European) | Program Item |
| --- | --- |
| 9:30 – 9:55 ET (15:30 – 15:55 CET) | Welcome Back and ACAMP Agenda Setting/Tweaking |
| 9:55 – 10:05 ET (15:55 – 16:05 CET) | Break |
| 10:05 – 10:55 ET (16:05 – 16:55 CET) | ACAMP Session #8 (5 breakouts) |
| 10:55 – 11:05 ET (16:55 – 17:05 CET) | Break |
| 11:05 – 11:55 ET (17:05 – 17:55 CET) | ACAMP Session #9 (5 breakouts) |
| 11:55 – 12:05 ET (17:55 – 18:05 CET) | Break |
| 12:05 – 1:05 ET (18:05 – 19:05 CET) | ACAMP Closing Session and Thank-Yous |